Sales reps love seeing stats such as only 1% of cold calls are converted into opportunities. Stats like these make salespeople feel better and convince them to stick to other more comfortable avenues to prospect. The truth is these stats are flawed because you have to think about the people who were surveyed and because you hear about so many people who are successful at cold calling. Just like anything else, it takes practice and dedication to become great at something. Cold calling is still only of the best and fastest ways to have conversations with prospects.
Practice
The first step in becoming successful at cold calling is studying the craft and practicing everyday. With more practice, you will start to pick up on things and figure out certain things that work and things that don't. I would also recommend reading books and following credible thought leaders on Twitter. Some of the books I would recommend are Jeb Blount's Fanatical Prospecting, Art Sobczak's Smart Calling and Jill Konrath's Selling to Big Companies. Read these books and take certain things from each book to create your own vision on how best to make cold calls.
Below is a great video with Jeb Blount and Art Sobczak discussing phone prospecting.
Target Research
Selling in today's climate always starts with research. Use tools such as Linkedin Sales Navigator to find potential targets and also research on the potential company you are going after.
Here are some quick ways to find key targets:
Put target position title in Linkedin Sales Navigator or Company
Type in location areas of your territory
Put in keywords in main box to narrow down further
Type in target company
Save your searches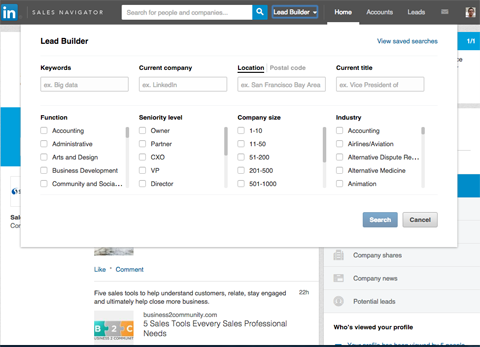 Just Do It
Once you see how powerful outbound sales calls can be the next step will be to just do it. Your going to read books and read powerful quotes on making sales calls and you are ready to start banging on the phones yet you something always comes up that keeps you from starting.
Knowledge is power and learning feels good for your confidence but getting started with that first call can be hard. Getting started with cold calling is difficult for people primarily because of fear. Once you get past the first call, everything gets easier and more fluid after.
Find Fits
One of the main goals of your cold calling efforts should be to find proper fits rather than securing the appointment. A lot of sales reps rush in to force getting a meeting instead of properly doing research during the calls and finding proper fits for their services. Below are some quick guidelines on how to intro a call and certain questions to ask.
Hi Mike,
This is Ronnie with IPS Solutions, hey real quick I know you guys are focusing on DESCRIPTION OF THERE JOB, and wanted to know if you guys are also tracking NAME SOMETHING THAT YOUR PRODUCT DOES DIFFERENT?
After your intro, ask questions on the subjects below:
Ask industry questions
Ask questions about other vendors
Get research about their situation
Due diligence on if your solution would help there situation
If you find they are a proper fit, ask for a meeting as seen below
I have used this line from Mike Weinberg and found it to work extremely well
Hi Mike,
I wanted to possibly set up a call and learn more about what you guys are doing and also share some ideas that we are working on in regards to "problem/need" and see if there might be a fit.
 Does Tues at 1030AM work for you for a quick call?
 Internal Referrals
A lot of times you will find that the person you are calling isn't the main decision maker and there is someone else in the organization who is the point person. One of your goals during your call should be to ask who else on the team is looking at this type of information. Most people naturally want to help and will give you a name.
If the person on the other end is receptive on giving a referral, ask for ab introduction. Referrals generate 3-5X higher conversion rates than any other channel, so going in for internal referrals or regular referrals as part of your calling plan can greatly increase your chances of converting cold prospects into opportunities.
Conclusion
Cold calling is not fun, but you are in sales so that means you are in this for the big commission checks and not the fun. Cold calling sucks but the truth is in order to crush your quotas and make more money, you are going to have to pick up the phone and prospect. I have seen various companies strictly rely on inbound marketing and trade shows as alternatives to cold calling to produce revenue. It's never enough! You need to have multiple avenues and have outbound cold calling and referral based selling as part of your revenue arsenal.
Join your fellow sales & marketing professionals to get the latest articles and tips to your inbox. Enter your name and email address below to subscribe.