We have all heard the saying, people buy from whom they know and trust. When someone is looking to buy high dollar services they will more likely ask a colleague for information on vendors they have dealt with rather than doing a google search and reaching out. That's where the word trust comes in and that is where the power of referral selling comes in. Referral selling is probably one of the oldest and most proven selling strategies. Clients who are happy with your services will gladly tell you someone in there network who can use your services.
Usually with referrals you can skip through the standard prospecting and hunting efforts and get straight to the right person to have a conversation about how you can help them with your services. Referrals can be extremely powerful and can speed up the sales process faster than most inbound methods. Here are some referral strategies that can take you straight to the decision maker to engage with.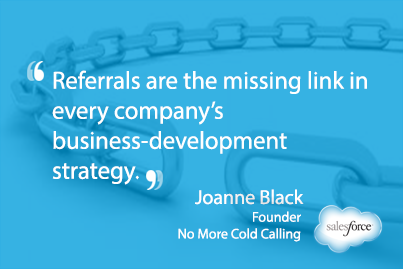 Top-Down Approach
The top down approach is a strategy where you start your outbound strategy by reaching out cold to other prospects within the organization with the intent of doing research to find the right decision maker. This approach was made famous by Aaron Ross of Predictable Revenue. Once you have targeted the correct person, you can ask the prospect to give you a quick introduction to the decision maker or reach out to the decision maker and say the particular prospect mentioned that you should reach out in regards to your ideas that you want to share.
Some pundits would argue that this is not true referral selling because you are originally cold prospecting into an account. The truth is, it doesn't matter how you do it, if you are getting introductions to prospects that is called 100% referral selling.
Using Your Existing Client Base
Your client base is a gold mine. There is no better way to get a heavy set of referrals than from your existing client base. Yet why do so many sales reps not ask or use their client base for referrals? People believe asking your clients for an introduction can be uncomfortable and "salesy" yet people would be surprised at how many people are happy to help and happy to introduce you to their colleagues where you can make a difference and add some needed value. Pick up the phone and call your best clients and ask them to introduce you so you can share some of your reports. See below some tips from Joanne Black.
Prospects Who Are Not Ready To Buy
Chances are if you have been prospecting for a while, than you have a big list of prospects who are not ready to move forward. If you have been properly nurturing these prospects and building trust, this would an extremely valuable source to get referrals from. By this time they know your product, they see you are an authority in your space, and you have branded yourself as a trusted consultant. Since you have been nurturing them and keeping them up to date on content that can help them, they will be more than willing to help you with an introduction. You help them and they will help you.
Mastering the art of referral selling will make you a smooth and slick sales person. Creating referrals takes a lot of strategic action and doing research within companies by using the phone and having meaningful conversations.
Referrals can dramatically increase your sales and give you the absolute best chance to close deals in your pipeline. Referral selling is not a theory, it's a time tested process in the B2B space. Give referrals back to your prospects to help them with there business and that will make it extremely easy for you to ask and get your referrals.
The powerful point is, if you can connect with a referral, they very highly likely to buy from you. If you can add referrals into your prospecting efforts, you can bet that you will create a lot of meaningful relationships within new accounts which equals to new business on the board!
Join your fellow sales & marketing professionals to get the latest articles and tips to your inbox. Enter your name and email address below to subscribe.