You have probably heard the phrase " the money is in the list" many times. There is a reason that line is so important is because the "list" means email list. Email marketing is still one of the best ways to turn prospects into clients in the B2B space. People talk about social media marketing taking over email , but email marketing is the number one best way to convert prospects into customers. Below I go over a few quick tips on building your lists and converting prospects into customers.
Build Warm Lists
The most important component of successful email marketing is building your list. Your list should be full of warm leads and prospects or people that have expressed some sort of interest and want to hear from you. Putting people on your list that have not responded to your prospecting efforts or not currently interested in your in what you have to say will get you nowhere.
You will get unsubscribes every time you send out a campaign and you will have very few people who convert into customers. The key is to use permission based sales and marketing techniques to build your lists such as inbound leads, blog signups, prospects who respond to your cold prospecting efforts, people who have expressed interest at networking events, and people you talk to on the phone that give you permission to add to your distribution list.
Keep it Personalized
In order to properly build relationships with your lists, you want to make it personal. You don't want your emails to look like it came from a robo marketing service. You want to have their first name at the top and keep the email personalized to their needs and the problems they have. If you are in the B2B space you want to keep the email as a text email rather than have images. This makes the email look like a real email which will help build the relationship, create awareness, and build credibility.
Having images works when you send to existing paying customers who have already invested in you and want to learn about your new products. Creating email campaigns with images to prospects will create a negative effect. They are busy and you are trying to build trust with them. Sending image emails to them without building the trust factor will get your emails deleted.
Your content should also be catered and personalized to there needs. Have content in your email that solves a problem and makes there jobs easier. Make it a real human email rather than putting images all over the place and being overly salesy.  The main point of your email marketing campaign is to help your prospects first and sell later.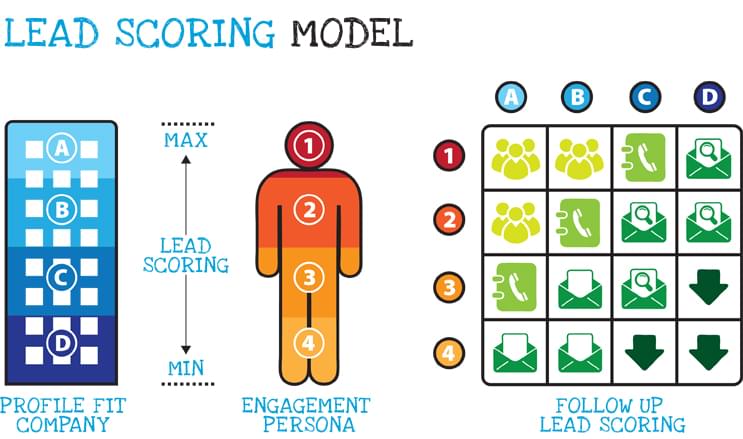 Lead Score
Moving prospects through the funnel can take time and patience. Using lead scoring in your email marketing efforts can quicken the process. After you send out a campaign, build a list of opens and clicks. Your clicks are going to be the most qualified. Create a point system for every open and every click. Once you hit that number, you want to have your sales rep or yourself call that prospect and get a commitment to the next step in the process such as going to the proposal stage or getting a meeting.
Calling prospects after lead scoring can give you a lot of information on what stage of the buying process they are in. You can also get internal referrals of other decision makers in the company that you can add to your warm lists.
Join your fellow sales & marketing professionals to get the latest articles and tips to your inbox. Enter your name and email address below to subscribe.